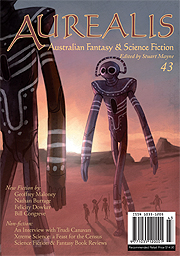 Aurealis #43
Geoffrey Maloney
Nathan Burrage
Felicity Dowker
Bill Congreve
Fiction
Latency by Simon Petrie
The Bunyipslayer by Lachlan Huddy
Things that Dead People Do by Geoffrey Maloney
Fragments of the Fractured Forever by Nathan Burrage
After the Jump by Felicity Dowker
The Traps of Tumut by Bill Congreve
Death's Daughter and the Clockmaker by Thoraiya Dyer
Non-Fiction
Xtreme Science: A Feast for the Census by Patricia L O'Neill
An Interview with Trudi Canavan by Kate Forsyth
Science Fiction & Horror Book Reviews by Keith Stevenson
This is the most exciting issue of Aurealis yet, for me. I've been in the job for three years. I've got to know a lot of people primarily by email communication, some in person via conventions and some by coffee. In this issue the reader will read the fruition of those developing relationships.
Geoffrey Maloney and Bill Congreve have been wonderful mentors to me during my editorship. They embraced my unheralded entry into the SF community and editorship of Aurealis with warm and openness that does them credit as people and as long standing members of this vibrant community. In this issue I conclude the couplet of stories by Geoffrey Maloney. When I first read Through a Lens Darkly I was shocked by the uncompromising language and scenery of the story. And dismayed that such a horrific joke might be played on someone. I had an illuminating discussion with the author that opened my eyes to the thoughtfulness and rigid intellectualism of an author reaching the peak of his writing. Things That Dead People Do is the culmination of this extraordinary series of stories.
Australian bush horror stories have a long history of publication in this country. Marcus Clarke, Henry Lawson and Joseph Furphy (writing as Tom Collins), Barbara Baynton and Arthur Upfield all wrote short horror stories for newspapers and magazines to help make ends meet. I have had great joy in presenting to the readership a sprinkling of contemporary bush horror in each issue. Bill Congreve gives us The Traps of Tumut a thoughtful ghost story. Bill's story is evocative of the Australian highlands town, where cold lakes and deep valleys hide terrible secrets.
This issue highlights the developing relationships that are being established with new and established authors. Nathan Burrage has been a regular contributor to Australian speculative fiction since 2001, when his first published work appeared in issue 27/28 of Aurealis. His work can be characterised as strongly Australian in flavour and international in scope. This issue introduces Lachlan Huddy to the speculative fiction community with one of the strongest and most original uses of Australian mythological creatures that I have ever read. Lachlan's The Bunyipslayer is remarkable for the brutal originality through which the author presents a post apocalyptic setting. The names Felicity Dowker, Thoraiya Dyer and Simon Petrie are all young Australian speculative fiction writers whose work is getting stronger and better.
Stuart Mayne – Editor