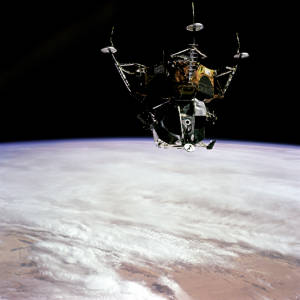 Today marks the anniversary of the launch of the Apollo 9 mission, which was one of the manned precursors to the first successful moonwalk only 4 months later. In memory of the mission, here are a handful of posts that refer to Apollo 9 documents and books, and the Apollo series of missions in general.
–The hidden importance of the Apollo 9 mission, and its fallout
–Five of the best insider accounts of the Apollo moon landings
–i09 discusses two new recently released books. The books describe the Apollo missions in detail, along with the reality of NASA's financial situation at the time
–A video of Earthrise as witnessed by members of Apollo 8. The video is reconstituted from audio and photographs as well as computer animation.
–National Geographic's original series of photographs of the Apollo program 
-Although it has been around for a couple of years, Chris Hadfield's rendition of Space Oddity is something I'm always happy to come back to (even if it doesn't relate directly to Apollo!).