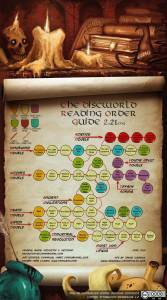 Beloved fantasy humorist author Terry Pratchett passed away on the 12th. This post is a collection of tributes to his works and life.
–An in-depth examination of what makes the discworld books great.
–Pratchett's thoughts on dementia.
–Crime novelist Val McDermid eulogises Pratchett in The Guardian.
–The New York Times interviews Pratchett in late 2014.
–Neil Gaiman writes on anger, injustice and Pratchett.
And finally, the last three twitter posts from Pratchett's account:
"AT LAST, SIR TERRY, WE MUST WALK TOGETHER"
"Terry took Death's arm and followed him through the doors and on to the black desert under the endless night"
"The End."